Center of Excellence in Minimally Invasive Gynecology (COEMIG)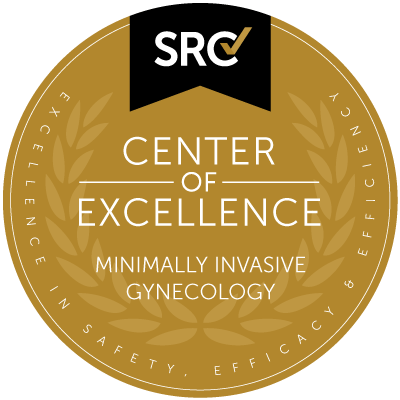 Women who are living with pelvic pain, vaginal bleeding, urinary incontinence, pelvic organ prolapse and other gynecologic issues, now have a Center of Excellence to turn to in the Kansas City Market. Overland Park Regional Medical Center's Center of Excellence in Minimally Invasive Gynecology (COEMIG) has a team of physicians, highly trained nurses and support staff who can help.
The physicians and staff at the COEMIG program at Overland Park Regional Medical Center focus on improving the safety and quality of gynecologic patient care and lowering the overall costs associated with successful treatment. COEMIG was designed to expand patient awareness of and access to minimally invasive gynecologic procedures performed by surgeons and facilities that have demonstrated excellence in these advanced techniques.
Improved Outcomes and Patient Satisfaction
Patients who undergo minimally invasive gynecologic surgery often experience less pain, reduced blood loss, fewer complications, shorter hospital stays and a faster recovery, when compared to traditional surgery. Our physicians participate in a national safety and quality improvement program that seeks to identify and accelerate adoption of best clinical practices and cost-effective solutions.
Options
Our hospital offers several minimally invasive gynecology surgery options, ranging from pelvic organ prolapse repair to hysterectomy. The COEMIG seal assures women that Overland Park Regional Medical Center and its team of physicians are committed to excellence in minimally invasive gynecologic surgical care.
Procedures
Da Vinci Robotic Surgery
Laparoscopic Surgery/Pelvoscopy
Laparoscopic and Robot-assisted Hysterectomy and Myomectomy
Minimally Invasive Surgery
Operative Hysteroscopy
Pelvic Reconstructive Surgery
Specialties
Cervicitis
Cervical Cancer
Contraceptive Counseling
Endometriosis Treatment
Fibroid Treatment
High- and Low-Risk Obstetrics
Hormone Replacement
Management of Pelvic Pain
Pap Smears
Pelvic Exams
Pelvic Floor Rehabilitation and Repair
Pelvic Organ Prolapse
Urinary and Fecal Incontinence
Urogynecology
Symptoms
Adhesions
Bladder and Bowel Control Issues
Pelvic Pain
Sexual Dysfunction
Uterine Bleeding
Uterine Infections
Vaginitis
Vaginal Bleeding
Vulvodynia
Questions You Might Be Afraid to Ask Your Doctor
Patient Testimonials
---
COEMIG Designated Physicians
Timothy Martin, MD
Obstetrics & Gynecology
The Women's Healthcare Group, and more
Kristi Weaver, DO
Obstetrics & Gynecology
Specialists in Womens Care
For help finding a COEMIG-certified physician or for information about our Center of Excellence in Minimally Invasive Gynecology at Overland Park Regional Medical Center, please call (816) 823-0644.