Are you ready to knock out painful periods?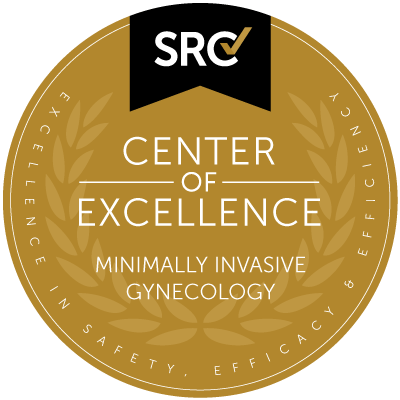 Do you suffer from painful periods? Are fibroids or endometriosis keeping you from everyday activities? Are you putting off a hysterectomy?
Knowing that you might need surgery can be scary. You think you know what it means—a long hospital stay, lots of pain and a long time to recover, even when you get home. Gone are the days when gynecologic surgery meant a long abdominal incision and a lengthy, painful recovery. Today, modern, less invasive tools and techniques such as laparoscopy and robotic-assisted surgery have revolutionized treatment for many gynecologic conditions. Women who are living with pelvic pain, vaginal bleeding, urinary incontinence, pelvic organ prolapse and other gynecologic issues, now have a Center of Excellence to turn to in the Kansas City Market. Overland Park Regional Medical Center's Center of Excellence in Minimally Invasive Gynecology (COEMIG) has a team of physicians, highly trained nurses and support staff who can help.
We treat:
Cervicitis
Dysmenorrhea or painful periods
Endometriosis
Fibroids
Hormone Replacement
Pelvic Pain
Pelvic Floor Rehabilitation and Repair
Pelvic Organ Prolapse
Urinary and Fecal Incontinence
Urogynecology
Vaginal bleeding
Improved Outcomes and Patient Satisfaction
Patients who undergo minimally invasive gynecologic surgery often experience less pain, reduced blood loss, fewer complications, shorter hospital stays and a faster recovery, when compared to traditional surgery. Our physicians participate in a national safety and quality improvement program that seeks to identify and accelerate adoption of best clinical practices and cost-effective solutions.
Surgical Options
Our hospital offers several minimally invasive gynecology surgery options, ranging from pelvic organ prolapse repair to hysterectomy. The COEMIG seal assures women that Overland Park Regional Medical Center and its team of physicians are committed to excellence in minimally invasive gynecologic surgical care.
Questions You Might Be Afraid to Ask Your Doctor
Patient Testimonials
---
COEMIG Designated Physicians
Timothy Martin, MD
Obstetrics & Gynecology
The Women's Healthcare Group, and more
Kristi Weaver, DO
Obstetrics & Gynecology
Specialists in Womens Care
For help finding a COEMIG-certified physician or for information about our Center of Excellence in Minimally Invasive Gynecology at Overland Park Regional Medical Center, please call (816) 823-0644.